Note: this got moved to Mastodon > Public Profile > Privacy and reach tab, as of the Mastodon 4.2.x release
In the Mastodon user preferences Other category, there is a checkbox for Opt-out of search engine indexing, with the label Affects your public profile and post pages.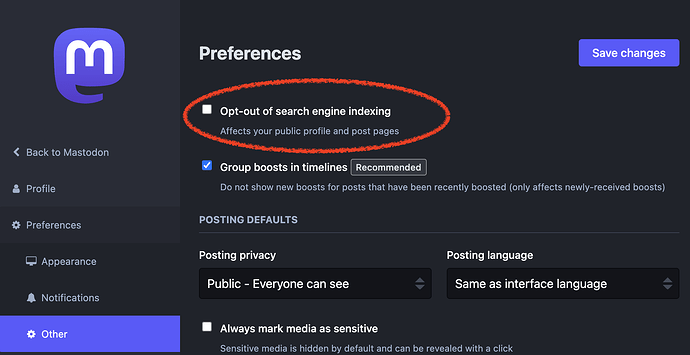 » link to cosocial.ca preferences page
From the Mastodon docs:
If you opt out of search engine indexing, a noindex flag will be added to your public profile and status pages.
https://docs.joinmastodon.org/user/preferences/#misc
What this means is that the HTML pages for your profile page (e.g. https://cosocial.ca/@coop) and individual post (aka status) pages (e.g. https://cosocial.ca/@coop/110788018084023493) won't be indexed by well-behaved search engines. noindex meaning, "don't add this link / page to your search engine index".
Any searches in Google, Bing, DuckDuckGo, etc. will never include or display those pages if you have this option checked.